Hello!!!
Back from my vacation and I am refreshed and ready to sing and dance with you all! In fact, I just had such a fun time editing this week's video. So much fun that I was torn between which photo to use as a featured image. The one above or this: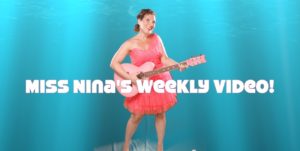 I'M A MERMAID! LOL! Even better is when you see it in the video, it shimmers and looks like I'm actually underwater. I guess my vacation was really good. lol!
This year, as the calendar officially changed to summer, something about the weather and the air changed here, right on time, and it really feels & smells like summer. And for many of us here in NJ, Monday was the first day of summer camp. Piper had her first day, I got to perform at the West Essex County YMCA's Peanut Shell Camp for their first day – and I start teaching music at the JCC Camp this week too. So, feels like the perfect  time for a camp song! Or a campfire song to be exact.
The song we're doing today is known to some as "I Love The Mountains" and others as "I Love The Flowers". And today, I introduce the concept of singing in a round for your little ones, with the magic of technology and editing. !! This project had me both totally psyched about what I did accomplish, and also realizing that perhaps it's time the I get a real editor. (I had some trouble with all these split screens and image cropping….but I think it worked okay in the end.)
Ok – do I have you in suspense? Wait no longer – here it is:
Enjoy! And please share! Share with via social media or in email or any way you'd like to. My YouTube Channel is approaching 14,000 Subscribers and I'd LOVE to get to 20,000 by the Fall!
Thanks for watching and sharing – and feel free to comment below to let me know what you think!
Have a wonderful week and I'll "see" you next time!
xoxo
Miss Nina