Good morning & Happy Tuesday!
I hope your week is off to a great start. I've got something fun to share with you: my new compilation album – Rap, Rock & Read – Volume I – The Best Of Miss Nina – is here!
It's a combination of what I think are the best of my dance-pop/rap, rock and book songs all put together into one album for you. And they are ON SALE NOW exclusively here on my website! Hop right on over to my store page and get your copy for $15 (plus tax & shipping). The song list is:
1. Hello Hello
2. This Song
3. Three Little Fishies
4. (Silly) Wheels On The Bus
5. Up & Down
6. The Brown Bear Rap
7. My Freeze Dance
8. New Alphabet
9. This Jazz Man
10. Riding In My Car
11. My Hula Hoop
12. How Do Dinosaurs Say Goodnight
13. Opposite Day
14. Subway
15. Angry Song
16. Wild Things
17. DJ In My PJs
18. Bye-Bye, Everybody
I got these made because I'm about to hit the road and perform my Rap, Rock & Read show at libraries and venues all over the NJ, DE & MD areas, and I wanted there to be an easy way for you to take the show home with you! If you want to know if I'll be by you this summer, take a peak here: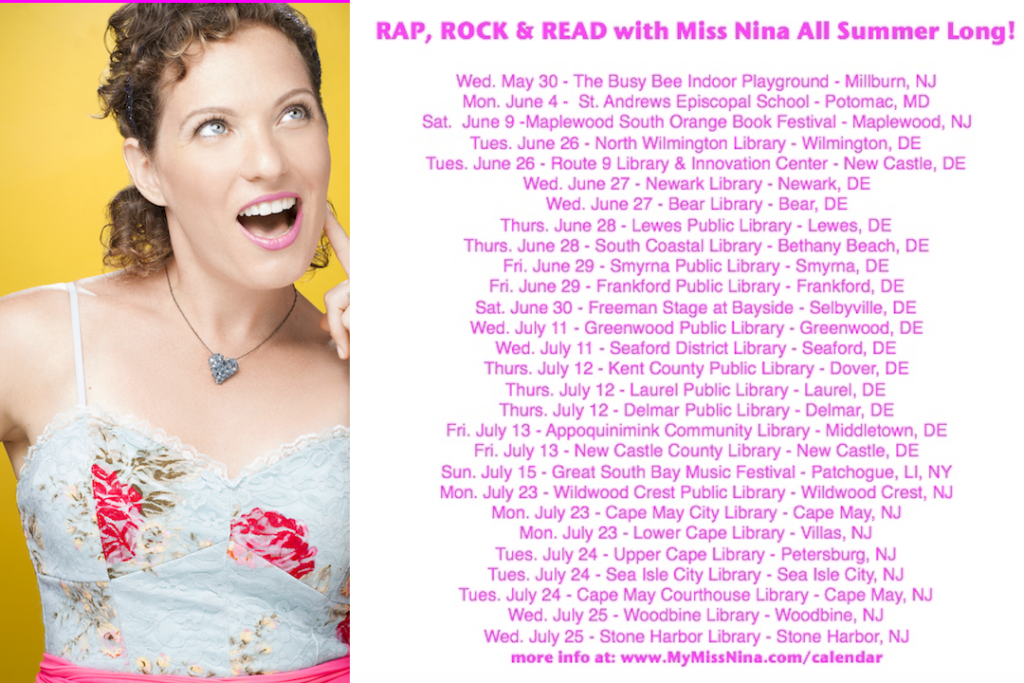 Over on my calendar page you'll find more details.  I hope to see you!!
*******
And finally – I am once again SUPER EXCITED for this week's video! My guest this week is Katherine Dines of Hunk-ta-Bunk-ta Music! She's based out of Denver, CO and I met her a few years ago at Kindiecomm and have adored her every since. She's got such a wonderful warmth about her that you can see how young children are drawn toward her. We've kept in touch over the years and when I knew I was going to have the opportunity to shoot episodes of my show at Kindiecoom, Katherine was the fist person I thought of to have as a guest!
Katherine  is an award-winning children's music songwriter, recording and teaching artist who performs throughout the world!  Since 1993, her concerts have captivated children and family audiences, and her Hunk-Ta-Bunk-Ta® MUSIC cds (11 in series) have garnered over 30 national awards– including a Grammy nomination and a Platinum record.  An advocate for literacy, the arts and education, Katherine serves on several national boards and presents keynote addresses at early childhood and library conferences. And I"m lucky enough to have her on the show this week performing her sing & move along song, Muscle and Bone:
This song is great for your toddler and preschool groups. It's a way to focus on some specific gross motor movements –  connecting how to move with the name of the movement. And it's a song about problem solving and being self reliant (and using those muscles and bones!).
It's a lovely melody and very easy for the little ones to follow along on. Click the video to start watching. And for more on Katherine and Hunk-Ta-Bunnk-Ta music you can visit her website, www.hunktabunkta.com – AND you can find a few of her CDs over in my Amazon shop: www.Amazon.com/shop/MissNinasWeeklyVideoShow.
Please share this email, post and/or video with anyone you think might enjoy it. And I'd love to hear from you in the comments either here on the blog, on my Facebook Page, or over on Instagram!
Wishing you a wonderful week – and I'll see you next Tuesday!
xoxo
Miss Nina