Happy Tuesday, friends!
Good morning!
Happy Tuesday!
How's your week going so far?
Piper had Friday and Monday "off" from school/distance learning and therefore so did I – Lol!
One thing about this whole sheltering-in-place time is that I've been torn between feeling very busy – busy getting Piper situated at home and figuring out her learning and how to keep her stimulated and learning, busy "pivoting" (oh that WORD!) and bringing things online more and more, busy with meals and dishes (and dishes and dishes! Amiright? ) – and then meanwhile also wanting to just enjoy the slowing-down of my life in a way that otherwise would not have happened. I keep wanting to walk a little slower, linger at our meals a little longer, enjoy the bedtime snuggles for a few extra minutes. Because it suddenly seems that I have spent my whole adult life rushing. Rushing to work, or to a class, or to a performance. Rushing to get dinner ready, or to get Piper to bed on time….. And I feel like I have not really slowed down and enjoyed the passage of time in this way since I was about 10 or 11 years old.
So – this weekend, I indulged in it. Piper and I went for 2 hour walks. And when we came back, we had picnic lunches in our backyard. All three of us took the dog on walks, read Harry Potter together a little later than we usually do, watched the Mandalorian together every day at 5 pm. And I loved it.  We got treated to some fun notes from our neighbors while out on our walk: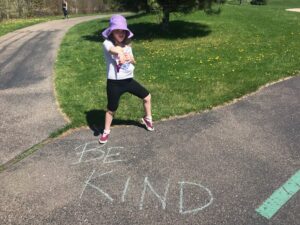 It was a good good long weekend.
Back to work today, though! And lots of fun stuff for us all – but I think I'm a little better for all the slowing down. 
So – this week in TUNES & TALES we're focusing on the book "How Do Dinosaurs Say Goodnight" by Jane Yolen. And while lesson planning I thought it might be fun to also to dinosaur songs for the video show! So – I shot THREE songs in a row for you for this week's video:
We've got 5 Huge Dinosaurs, I'm Brining Home A Baby Dinosaur, and Chomping Stomping (a little song I made up to the tune of Open Shut Them).
All three songs use music and movement "across the curriculum" to give your little one(s) important learning moments while having fun. These songs work on counting, fine motor skills, rhythm rhyme & repetition for speech development, singing, gross motor movement and fitness while we STOMP and CHOMP, and of course it's always a blast to ROAR!!
I'll put all the lyrics at the bottom of this post, too, in case you need them. 
And if you want to follow it up with more fun, here's my video for the book "How Do Dinosaurs Say Goodnight" by Jane Yolen:
Now – If you enjoy exploring children's books with music and movement, we'd love you to join us in Tunes & Tales! Stories, art, music and movement through a private Zoom class – we're having a BLAST and hope you can join us! You can get the details and sign up here: http://MyMissNina.com/tunes-tales
And of course, if you like this week's video PLEASE SHARE! The link is: https://youtu.be/ppLUKooTNQ0
Wishing you a wonderful week! See you next Tuesday!
XOXO
Miss Nina
LYRICS
FIVE HUGE DINOSAURS
Five huge dinosaurs looking fierce and mean
The first one said "i eat anything that's green".
The second one said "I hatched from an egg"
The third one said "I have big strong legs"
The fourth one said "I fly through the air"
The fifth one said "I give everyone a scare"
THUMP THUMP came Tyrannosaurus Rex that day
And the 5 huge dinosaurs ran away!
I'M BRINGING HOME A BABY DINOSAUR

I'm bringing home a baby dinosaur
Won't my mommy hide behind the door
I'm bringing home a baby dinosaur
Stomp stomp stomp roar roar!
CHOMPING STOMPING (Tune of Open Shut Them)
Chomping chomping
Stomping stomping
Like a dinosaur
Chomping chomping
Stomping stomping
Let me hear you ROAR!
Chomping chomping
Stomping stomping
Over to our nest
Chomping chomping
Stomping stomping
Dino take a rest!