Good morning and Happy Tuesday!
Do I have a treat for you today! And no – that's actually not a typo up there in the title!
Last weekend when I was at KindieComm, I was surrounded by hundreds of Kids music artists from all over the country for an incredible weekend. Before traveling I thought "wouldn't it be great to film several episodes of the Miss Nina Weekly Video Show while I'm there, WITH all those wonderful people??!!"
Well, I didn't get to do it with ALL of them – but I did some! So I'm exited to debut this video with the incredibly fun and wildly talented "Sonshine & Broccoli" who are based in Canada. We decided to do one of everyone favorites "Skinnamarink" – which is quite well known because of Sharon, Lois & Bram's Elephant Show – which was a Canadian preschool television show. The perfect song for us to do!
Be sure and check out Sonshine & Broccoli's website: www.SonshineandBroccoli.com to find out more about them AND follow them on Instagram: @SonshineandBroccoli. And if you want to get yourself a Sonshine & Broccoli CD – well I've got those featured over in my Amazon Shop! Visit https://www.amazon.com/shop/MissNinasWeeklyVideoShow for those (and other great kids music and activities)!
Below this week's video, I've got a little more info about how you can purchase Miss Nina's videos "to go" as well as info about my summer tour schedule! So scroll down for that info after the video. But now, without further adieu – here's this week's video!
Wasn't that so much fun??!!!
And yes – as I mentioned and due to popular demand I've got video-to-go for you. It's not a DVD, but you can now buy for download to your own device (computer, phone, iPad, etc) this popular video that you know from YouTube: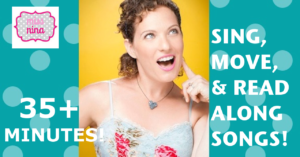 Right over on my store page here on the website, you can purchase this 35 minute video for just $6.99 and then have it forever! No need for internet connection – you can watch Miss Nina any time. The full song list for this one is:
I'm Bringing Home A Baby Bumblebee
 Wheels On The Bus
Snuggle Puppy (Song) by Sandra Boynton
Five Little Monkeys Swinging In A Tree
On Top of Spaghetti
Five Little Monkeys Jumping On The Bed
Miss Nina's Clean-Up Medley
Baby Shark
Are You Sleeping, Brother John?
Ba-Rump Went The Little Green Frog
The Pirate Song
The Little Turtle
Zoom Zoom Zoom!
Llama Llama Red Pajama by Anna Dewdney (song by Nina Stone)
And last but certainly not least, I will be performing all around New Jersey, Delaware, New York and even in Maryland in the coming months! I've got about 20 library shows in Delaware this Summer and eight in Cape May, NJ (The Jersey shore!). Hop on over to my Calendar Page to see where to find me!  
Wishing you a wonderful week full of plenty of singing and dancing!! Let me know what you the of this week's video in the comments!
xoxo
Miss Nina