Well hi there!
I hope you had a very Merry Christmas, and that you're in the midst of a fantastic holiday week enjoying time with family, friends and loved ones!
I've got two things I'm excited to share with you –
There's just FIVE DAYS left of the special SALE price for the Miss Nina Online Playschool Winter Session; AND
This week's video "That's A Wrap" with Lucy Kalantari:
So first – ONLINE PLAYSCHOOL!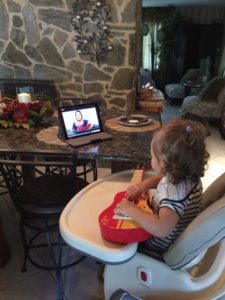 Our Winter session begins January 22nd! It's a OVER 6 HOURS of video fun, delivered over five week – all with me!  I make the whole curriculum, send you supplies list, and then take you and your child/ren through art projects, story time, sensory activities and 30 minutes of sing-along, move-along fun – EVERY WEEK!
The special sale price is $97 (normally $197), but only until December 31st, 2017! Then the price goes up! So be sure and snag this awesome program at this super low price NOW. To watch the trailer, get more info or sign up go here: http://mymissnina.com/online-play-school/
And now…..THIS WEEK'S VIDEO!!!!
If you keep up with me on Facebook, you may have seen a couple of posts about how I had the great pleasure of being a part of Lucy Kalantari's new album "It's The Holidays". But I didn't sing on there album. Or play an instrument. Nope. I TAPPED DANCED!!!
So for this week's video, I asked Lucy to come by so we could perform this special song for you. It's a New Years song called "That's A Wrap" and  it's currently spinning on SirisuXM Kids Place live – so if you like it and you want to hear it more, please either call and request it –  866-328-2345 –  or visit their Facebook Page an post a request there! So now – let's get ready to wrap up 2017 with this song and video:
ENJOY!!
I wish you a wonderful week and a very happy and healthy New Year! I'll be taking next week off. so there won't be a new video or email from me next week. But I'll see you the following one!
xoxo
Miss Nina