HAPPY TUESDAY!
OMG – I'm so excited for this coming weekend!! I cannot wait to be back in NYC this Saturday at the the Metropolitan Museum of Art's World Culture Festival: Dance! Will I get to see any of you?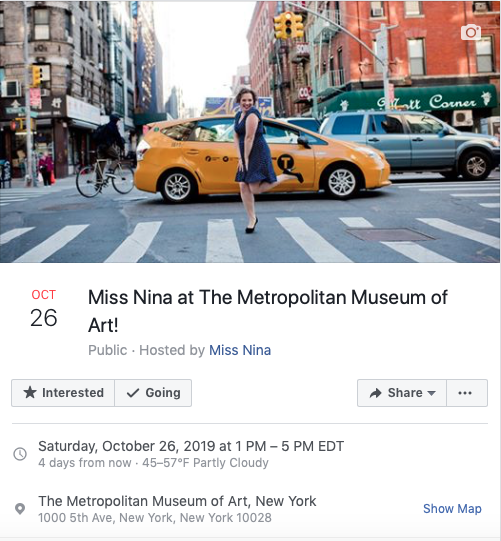 Loads of detail of my performance times as well as all the other phenomenal activities going on at the link: CLICK HERE !
Meanwhile – we're slowly rolling up on Halloween so this week I thought I'd share with you my favorite Halloween song: Five Little Pumpkins! But I'm going to share it with you THREE TIMES! Lol! Back in 2013 at my Brooklyn, NY sing-alongs I made this classic rhyme into a a call and response song. I made a couple of videos of it for the Miss Nina Weekly Video Show over the years, before getting together with my band and putting it on my third album Every Day's Your Birthday. 
So, today, we'll start with the finished product – our official music video that many of you helped me make a few years back! And then we'll take a look at the episodes where this version was born. One even has tap dancing in them!! So here we go… if you have a 5 Little Pumpkins book, grab it and you can read and sing along with me! First up: the Miss Nina Official Music Video for 5 Little Pumpkins:
Next up – the first time we did it on the show! You can hear/see the beginnings of the final version…..
And finally, the time I did it and added a little tap dancing!
So there you have it – NYC & Five Little Pumpkins Times Three!
Please share any or all of these videos with anyone you think might find them fun and useful.
I wish you a pumpkin filled fun week ahead and I look forward to seeing some of you this weekend!!!
XOXO
Miss Nina