Hello!
So here we are at the beginning of the school year. Where I am in Minnesota, some of us started back to school last week, and some started yesterday.
Virtual, hybrid, full time in person – the variations and preparations for each is certainly a lot to process for everyone – the kids, the parents and the teachers.
This week I have a song for you that's great for the beginning of the year and the beginning of the day: The More We Get Together. It's a calm song with an easy melody and a positive message about friendship and togetherness.
Adding in the element of sign language makes it a great gathering song that helps get everyone's focus and attention – and it is as equally effective online as it is in person.
In this video I give a short demonstration of the song, and then we sing and sign the whole song together, twice.
This song is beneficial for our little ones with still developing speech – sign language helps them to communicate and eliminate frustration! One of Piper's most used sign when she was a baby was the one for "more". Lol! And we use that one a lot in this song.
So, feel free to use this song at home, in the classroom, during virtual classes – any time you need a song to help everyone get calm, focused, and in a positive frame of mind. And if you are a teacher who is not able to sing in the classroom during the pandemic, feel free to use my video! (You're all welcome to watch and use this video as often as you'd like! The link to share is: https://youtu.be/lW87smWccDA
If you want to have a bit more Miss Nina to support your at home and/or distanced learning this school year – be sure and check out Tunes & Tales! We've officially begun our Fall session, but you can join at any time. We'll be focusing on these Fall books over the next 8 weeks: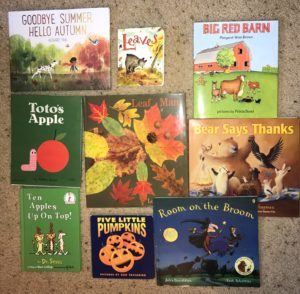 Crafts, music and movement class all designed around those. It is honestly SO MUCH FUN! So much so that the little ones don't even realize that they are learning. 🙂 JOIN US! 
And as always – I'll see you on Wednesday afternoon at 3:30 Central on Facebook and YouTube Live!
Enjoy this week's video and have a wonderful week!
XOXO
Miss Nina