Today we ask the age old question: "Where Is Thumbkin?"
Lol!
This week's song choice was inspired all things Back-to-School. (Today is Piper's first day of Second Grade! She's doing Distanced Learning – so that made waking up "late" not too much of a problem. Haha!)
Some of you are already back to school, some are going back soon – and that got me thinking about some beginning of the school year, greeting songs that we like to do in Circle Time.
Where Is Thumbkin is a classic song that gets and keep little ones attention for many, many reasons:
It's a familiar tune (Are You Sleeping, Brother John)
It has an element of surprise/peak-a-boo which draws children in
It encourages participation
It isolates fingers and works on dexterity and fine motor skills
It's a greeting song that demonstrates politeness
After getting children's attention with this song, you can even continue it by singing hello to each child by name and even a general Hello to the whole class that incorporates call & response (How are you today, friends? Very well we thank you!…).
I know that in many classrooms across the country right now there is a "no singing" policy due to Covid. If you're able to use media, feel free to turn on this video and just move along with me. That way you get the musical element without singing – and the kids still get to work on their fine motor skills.
(Same goes for ANY of my videos)
Join me in singing Where Is Thumbkin? by clicking the photo above!
If you're looking for a fun online play school for the Fall – you can join us in TUNES & TALES!!
We've been having a really great time. Here's what Lisa has said about it:
"……Sophia learns without knowing she is learning. There is no coaxing. She wants to be there, and willingly does what her teacher says – those are not words that can be said for her other teachers! You add light to the dark troubling times we are in.  30 minutes of joy with her music teacher, friends and music make all the difference in Sophia's day."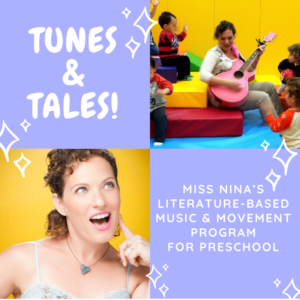 I'LL SEE YOU ONLINE TOMORROW FOR FACEBOOK & YOUTUBE LIVE!
I hope you enjoy today's video! Feel free to use it, share it, and sing and move to it daily!
Also: I love to hear from you!
Have a wonderful day and week!
XOXO
Miss Nina